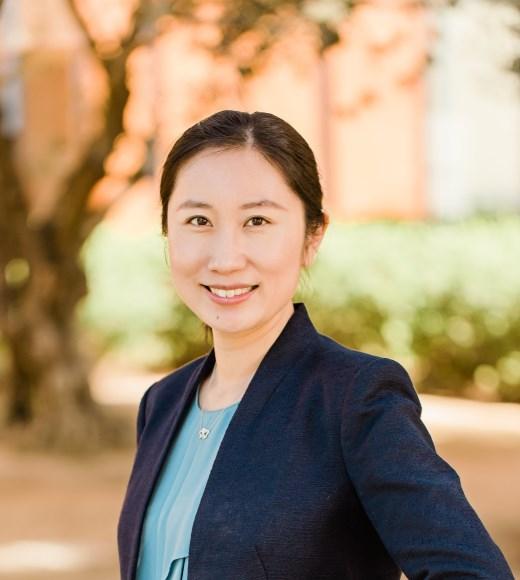 Luxin Wang, Ph.D.
Position Title

Assistant Professor
Unit

Food Science and Technology
3210 Robert Mondavi Institute – South
Bio
Degree
Ph.D. University of Missouri, 2009
Research
Dr. Wang's research lab studies the microbial safety of fresh produce, aquaculture products and animal products. Her program uses conventional microbiological technologies and new precision approaches, such as comparative genomics and metagenomics, to study the behavior of foodborne pathogens and their interactions with the background microbiome. Projects underway aim to advance the understanding of the genetic and environmental factors impacting the dissemination and persistence of antibiotic-resistant zoonotic pathogens. Her lab also studies the efficacy of novel intervention strategies for the control of foodborne pathogens. The goal of her research program is to generate knowledge needed for establishing strategies to manage foodborne pathogens from farm and pond to fork, thus ensuring a safe and sustainable food supply chain.
Selected publications
Zeng, Q., Tian, X., and Wang, L. 2017. Genetic adaption of microbial populations present in high-intensity catfish production systems with therapeutic oxytetracycline treatment. Scientific Reports. 7: article number 17491.
Liao, C., Zhao, Y., and Wang, L. 2017. Establishment and validation of RNA-based predictive models for understanding survival of Vibrio parahaemolyticus in oysters stored at low temperatures. Applied and Environmental Microbiology. 83(6): e02765-16.
Broady, J. W., Han, D., Yuan, J., Liao, C., Bratcher, C. L., Lilies, M. R., Schwartz, E. H., and Wang, L. 2016. Survival and metabolic activity of Listeria monocytogenes on Ready-to-eat roast beef stored at 4 °C. Journal of Food Science. 81(7): M1766-1772.
DeGeer, S. L., Wang, L., Hill, G. N., Singh, M., Bilgili, S. F., and Bratcher, C. L.  2016.  Optimizing application parameters for lactic acid and sodium metasillicate against pathogens on fresh beef, pork, and deli meats. Meat Science. 118: 28-33. 
Fisher, K. D., Bratcher, C. L., Bilgili, S. F., Owsley, W. F., Jin, T., and Wang, L. 2016. Evaluation of a novel antimicrobial solution and its potential for control E. coli O157:H7, non-O157 shiga toxin-producing E. coli, Salmonella spp., and Listeria monocytogenes on beef. Food Control. 64: 196-201. 
Wang, L., Zhao, L., Yuan, J., and Jin, T. Z. 2015. Application of a novel antimicrobial coating on roast beef for inactivation and inhibition of Listeria monocytogenes during storage. International Journal of Food Microbiology. 211: 66-72.
Harris, L. J., Berry, E. D., Blessington, T., Erickson, M., Jay-Russell, M., Jiang, X., Killinger, K., Michel, F.C., Millner, P., Schneider, K., Sharma, M., Suslow, T.V., Wang, L., and Worobo, R. W. 2013. A framework for developing research protocols for evaluation of microbial hazards and controls during production that pertain to the application of untreated soil amendments of animal origin on land used to grow produce that may be consumed raw. Journal of Food Protection. 76(6): 1062-1084.
Kimber, M. A., Kaur, H., Wang, L., Danyluk, M. D., and Harris, L. J. 2012. Survival of Salmonella, Escherichia coli O157:H7 and Listeria monocytogenes on inoculated almonds and pistachios stored at -19, 4, and 24 °C. Journal of Food Protection. 75(8): 1394-1403.