With your help, UC Davis is taking its food science program to the next level of excellence in teaching and research on behalf of the food and beverage industries.
Graduate Student Support
Funding to attract and support our cadre of 70+ students in the Food Science Graduate Group is among the top priorities of the department. Graduate students play a critical role in advancing research that benefits the food and beverage industry. 
Unrestricted Support for the Department
Unrestricted gift dollars allow the department to take advantage of opportunities that would otherwise be out of reach. Funding provides a margin of excellence and flexibility for the department. To make an online gift to the department, click here.
Facility Support
In 2011 UC Davis celebrated the grand opening of August A. Busch III Brewing and Food Science Laboratory a food-grade, 11,500 square foot facility housing the Anheuser-Busch InBev Brewery, the California Processing Tomato Industry Pilot Plant and a milk processing laboratory. The entire building has been certified LEED (Leadership in Energy and Environmental Design) Platinum by the US Green Building Council, the highest level and first such building at UC Davis. 
The $8 million space was entirely privately funded. Fundraising continues for equipment needs.
Student Support
UC Davis has one of the largest food science programs in the nation with more than 200 undergraduate majors. Scholarships and other forms of financial support are critical for students, particularly in this time of rising fees. To give online to support food science students, click here. 
For more information about giving to the Department of Food Science and Technology, please contact: Melissa Haworth, Director of Development, (530) 979-1440 or mdhaworth@ucdavis.edu.
New Equipment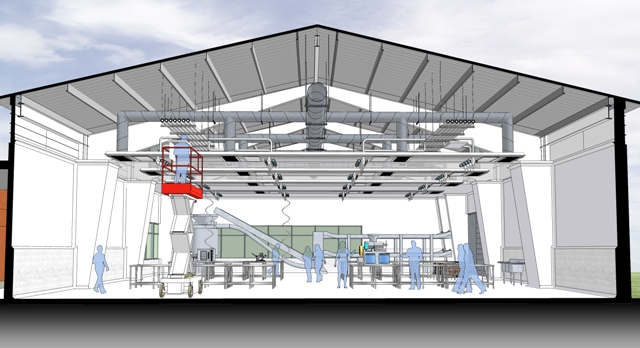 As construction of the facility is completed, attention has shifted to equipment. In addition to the brewery which was donated in 2006 and was moved to the new space, we have secured $1 million in contributions and gifts-in-kind of used equipment. We are seeking an additional $1.5 million to purchase, move and install the remaining equipment needed for teaching and research in food science, dairy food science and brewing science.
We must rely on friends of the department to help us reach this goal. Gifts of all sizes to the equipment fund will allow us to purchase relevant pieces. Gifts-in-kind of pieces of equipment can also help us reach our goal. Donors may be recognized with naming opportunities throughout the facility.
Faculty have identified the following high priority equipment needs for the new space:
| | |
| --- | --- |
| Thermal Processing: |   |
| MicroThermics Development E-Series UHT/HTST/HVH with Data Acquisition         | $76,000 |
| Cutter/dicer (Urschel Model G-A) | $32,000 |
| JBT A 091 Pilot Retort | $225,000 |
| Drying: |   |
| Freeze Dryer (small scale unit) | $15,000 |
| Freeze Dryer (refurbish existing, larger equipment) | $65,000 |
| Facility: |   |
| Battery Operated Fork Lift (Mitsubishi Forklift Truck Model FBC25N-AC) | $36,000 |
| Ice Machine | $5,000 |
| Locking, mobile storage solutions (20) | $8,000 |
| Sorting conveyer and vegetable wash line | $22,000 |
| Modular Shelving | $5,000 |
| Foods Lab (in Sensory Lab): |   |
| Range hood and ventilation system | $100,000 |
| Packaging and Coating: |   |
| Simplex Filler (model AS-1) | $8,000 |

For information about making a gift to help equip the new Laboratory, please contact: Melissa Haworth, Director of Development, (530) 979-1440 or mdhaworth@ucdavis.edu.
Other Support
While building and equipping the new facility are high priorities, the Department of Food Science and Technology has other, ongoing needs for support. UC Davis currently has the largest undergraduate food science program in the nation. As our student enrollment grows, both undergraduate and graduate scholarships and fellowships become even more critical. Gifts may also be made to support outstanding faculty and to specific projects and outreach activities.
To make a gift to UC Davis Food Science and Technology, please contact: Melissa Haworth, Director of Development, 
(530) 979-1440 or mdhaworth@ucdavis.edu.