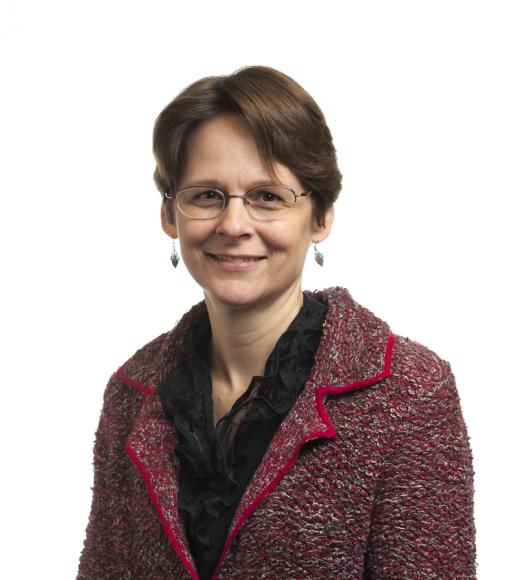 Kyria Boundy-Mills, Ph.D.
Position Title

Professional Research Microbiologist
Unit

Food Science and Technology
Bio
Degree
Ph. D. University of Minnesota, 1992
Research
Boundy-Mills has been the curator of the Phaff Yeast Culture Collection since 2001, and was assistant curator under Herman Phaff 1999-2001. She maintains the collection, distributes strains to researchers on campus and around the world, and performs research that builds and/or taps the collection. Her current research projects include studies of yeast/insect ecology, and screening yeasts for commercially useful properties such as production of protein, lipids, and carotenoids. A large number of undergraduate students have performed independent research projects in her laboratory.
Selected Publications
Bokulich, N., C.-F. Hwang, S. Liu, K. Boundy-Mills and D. Mills. 2012. Profiling the yeast communities of wine fermentations using terminal restriction fragment length polymorphism analysis. Am. J. Enol. Vitic. 63:2 185-194.
K. A. Hamby, A. Hernández, K. Boundy-Mills and F. G. Zalom. 2012. Associations of Yeasts with Spotted-Wing Drosophila (Drosophila suzukii; Diptera: Drosophilidae) in Cherries and Raspberries. Appl. Environ. Microbiol. July 2012 78(14) 4869-4873.
T. S. Davis, K. Boundy-Mills and P. J. Landolt. 2012. Volatile Emissions from an Epiphytic Fungus are Semiochemicals for Eusocial Wasps. Microbial Ecology Pages 275-283(2012).
Kyria Boundy-Mills. Yeast culture collections of the world: meeting the needs of industrial researchers. 2012. Journal of Industrial Microbiology and Biotechnology 39 (5) 673-680.
Stamps JA, Yang LH, Morales VM, Boundy-Mills KL (2012) Drosophila Regulate Yeast Density and Increase Yeast Community Similarity in a Natural Substrate. PLoS ONE 7(7): e42238. doi:10.1371/journal.pone.0042238. PLoS ONE: Research Article, published 31 Jul 2012.
Sitepu, I.R., L. Ignatia, A. K. Franz, D. M. Wong, S. A. Faulina, M. Tsui, A. Kanti, K. Boundy-Mills. 2012. An improved high-throughput Nile red fluorescence assay for estimating intracellular lipids in a variety of yeast species. J. Microbiological Methods. 91(2): 321-328.
Golomb, B. L., V. Morales, A. Jung, B. Yau, K. L. Boundy-Mills, M. L. Marco. 2012. Effects of pectinolytic yeast on the microbial composition and spoilage of olive fermentations. Food Microbiol. 33(1): 97-106.
Kanti, A., Sukara, E., Latifah, K., Sukarno, N., Boundy-Mills, K. 2013. Indonesian oleaginous yeasts isolated from Piper betle and P. nigrum. Mycosphere, 4(5), 1015-1026.
Johnson, T.A., J. Sohn, A.E. Ward, T.L. Cohen, N. Lorig-Roach, H. Chen, R.A. Pilli, E.A. Widjaja, M. Hanafi, L. Kardono, P.D. Lotulong, K. Boundy-Mills, and L.F. Bjeldanes. 2013. (+)-Altholactone exhibits broad spectrum immune modulating activity by inhibiting the activation of pro-inflammatory cytokines in RAW 264.7 cell lines. Bioorganic & Medicinal Chemistry 21(14): 4358-4364.
Sitepu, I.R., Sestric, R., Ignatia, L., Levin, D., Bruce German, J., Gillies, L.A., Almada, L.A., Boundy-Mills, K.L. 2013. Manipulation of culture conditions alters lipid content and fatty acid profiles of a wide variety of known and new oleaginous yeasts species. Bioresource Technology, 144: 360-369.
Garay, L., K. Boundy-Mills, and J. German. 2014. Accumulation of high value lipids in single cell microorganisms: A mechanistic approach and future perspectives. J Agric Food Chem. 62(13): p. 2709-2727.
Sitepu I., T. Selby, S. Zhu, T. Lin, and K. Boundy-Mills. 2014. Carbon source utilization and inhibitor tolerance of oleaginous yeasts. Journal of Industrial Microbiology and Biotechnology. 41: 1061-1070.
Sitepu, IR, Shi, S, Simmons, B. A., Singer, SW, Boundy-Mills, K, & Simmons, CW. (2014). Yeast tolerance to the ionic liquid 1-ethyl-3-methylimidazolium acetate. FEMS Yeast Res, In Press.
Sitepu, I., M. Jin, J. Fernandez, L. Sousa, V. Balan and K. Boundy-Mills (2014). "Identification of oleaginous yeast strains able to accumulate high intracellular lipids when cultivated in alkaline pretreated corn stover." Applied microbiology and biotechnology 98(17): 7645-7657.
Sitepu, I., L. Garay, R. Sestric, D. Levin, D. E. Block, J. German and K. Boundy-Mills (2014). "Oleaginous yeasts for biodiesel: Current and future trends in biology and production." Journal of Biotechnology Advances 32(7): 1336-1360.
McCluskey, K., S. Bates, K. Boundy-Mills, A. Broggiato, A. Cova, P. Desmeth, C. DebRoy, D. Fravel, G. Garrity, M. del Mar Jiménez Gasco, L. Joseph, D. Lindner, M. Lomas, J. Morton, D. Nobles, J. Turner, T. Ward, J. Wertz, A. Wiest and D. Geiser (2014). "Meeting Report: 2nd Workshop of the United States Culture Collection Network. May 19-21, 2014, State College, PA, USA." Standards in Genomic Sciences In press.
Extension of Knowledge Activities 
VEN 128 - Wine Microbiology (Guest Lecturer)
For more information on Dr. Boundy-Mills, visit her home page.